I posted this last year here but didn't get much participation. I am hoping this time it will go differently.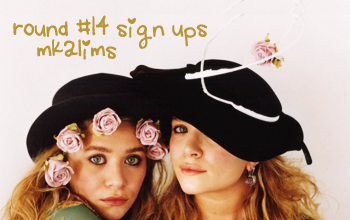 This is the
mkalims
sign up post for round #14!! If you want to participate, please comment with the user name. Signs up will stay open until I have 6-15 people signed up. Anyone who signs up automatically gets one skip.
You may earn one extra skip by promoting this community (in places where promotion is allowed). Comment with your promotion link.
Please leave a suggestion of a challenge, your favorite project they have done, favorite episodes, favorite photo shoots, or links to your favorite photos.Signed up:
hermionesparkle
(1)
omigod_we_rock
(1)
dani0110
(1)
nastyakireeva
(1)
jane948
(1)